Bisexual Chat
Start Chatting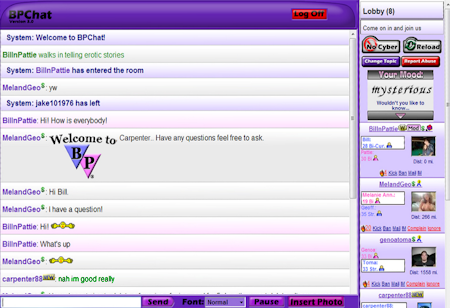 BisexualPlayground.com
has one of the most unique bisexual chat rooms on the Internet. With multiple rooms and some really amazing features, you will always have something to do. Our chat rooms have features such as the ability to use custom colors and fonts, and any one of several hundred specially made icons for one of the most unique chatting experiences you've ever had. Our chat sidebar lists all the people in the chatrooms, but also contains information about them, including their distance from you in miles.
Our site has always been about community. Our Lobby chat room is the center of the community, where everyone can come to meet new people, welcome new members, and make lifelong friends. The chat is always interesting and fun, and you'll spend hours not being able to pull yourself away. With features such as the ability to insert your profile photos directly into the chat room, it's a great way to show yourself off and get noticed, too.
When we designed our chat rooms, we wanted them to be unique, fun, and engaging. What resulted is one of the most entertaining chats we've ever seen. Most bisexual chat rooms too often find themselves without a personality. Our chat has loads of personality, and we're sure you're going to want to make it your home.
You can modify your chat settings and select your own colors, fonts, and icons to use, so you can always get noticed. You can also pause chat, insert photos from your profile, or from the
interests library
. Trouble seeing small text? You can dynamically change the font size whenever you like!
Sign Up for Free
and start chatting and making new friends today!