Tennessee Bi Curious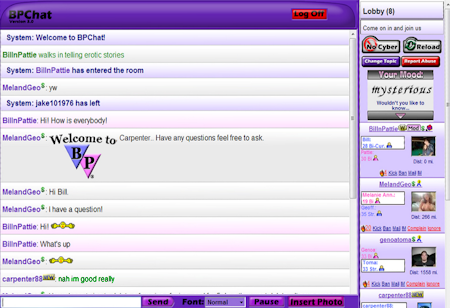 BisexualPlayground has the most warm and welcoming chat rooms for bisexuals and bi-curious people on the internet.  You are bound to make friends, meet other people who share your interests.  Our rooms are fun and easy to use, with emoji support, the ability to share pictures, and instant message other chatters.
| | |
| --- | --- |
| | We are looking for a girl to join us in Tennessee or very close to Tennessee...don't be afraid to message for details |
| | Right now I'm living in Louisiana and my partner is in Tennessee. We are looking for a girl who already lives in Tennessee because I will be moving there soon. |
| | heavy set Tennessee country boy seeking BBW's local from west Tennessee to hook up |
| | nice looking attractive bottom guy from Nashville,Tennessee. I attend Tennessee State university where I am a junior |
| | I am in East Tennessee, and southwest Virginia. I am very bi-curious and want to find a couple to explore with. I am a female 38 years old. Discretion is a must. |
| | i am a funny outgoing country girl from bolivar tennessee i am bi curious and looking for a girl to experience with hit me up |
looking for other curious couples in west tennessee.......we live in savannah, both of us work so we cant travel very far..........
Looking for a single bi-curious or bi-female to be friends with, maybe more. We are in Western NC, close to Tennessee. We value friendship. If you are interested let us know and we'll talk and get to know you better.
Okay I got asked a very important question that I felt necessary to post in here..... as we want to have a great time I want everyone to remember that safety is the most important thing here......I was asked a question regarding the motor vehicle laws in Tennessee regarding motorcycles. Here are the general laws to be known period.... Yes their is a helmet law in Tennessee when riding a motorcycle. We also have the click it or ticket law that was just passed. All passangers in your vehicle must have a seatbelt on or guess what you can now be pulled over and given a ticket. May sound stupid , but it was inforced to save lives. Tennessee is trying to take action to prevent the number of fatalities due to automobile accidents. So while you are traveling to have fun ... keep safety in mind no matter your destination! .... One of my fav. expressions i like to use is ....
" It's better to be later than never" ...... Take care of yourselves and each other
Hugs and Kisses,
Marie
Bi-curious is rather a strange word. I've always thought that it's like being pregnant. Either you are or you are not, not in between. Is there such of a thing called hetero-curious, or gay-curious, or lesbian-curious, or trans-curious? Bi curious was predominatly used by men/women who hasn't accepted their homosexual tendacy and uses that term just to be on the safe side. Then there are those that already claimed to be bisexual even though they haven't experienced it. They already know, not curious about it.
Cum on down to Tennessee
Hmm ,I'm in tennessee
Interests:
---
Testimonials
DV8s_
Thank you for letting me become a member of your site. We are a little curious about watching & being watched and some inclination to having a woman of a couple join us. Thank you once again for the power to learn about people and there way of life.