Gender, Race:
White
White
Practice Safe Sex:
Only when it's requested
Most of the time
Experience:
I have had a few experiences (still a beginner)
I am a newbie (no experiences)
Body:
5' 10, 280 lbs.
(Overweight)
Hair:
Short Dirty Blonde
Short Dirty Blonde
Eyewear:
I have glasses, but I don't wear them often
I have glasses, and I wear them all the time
Interested In Ages:
25 - 60
25 - 60
Looking For:
Single Men
Single Women
Couples

Single Women

Will go as far as:
Meeting in person
Short Term Relationship
Long Term Relationship

Internet

Interested In:
1 on 1 Sexual Relationship
M-F-F Threesome
M-M-F Threesome
M-F-M Threesome
F-M-F Threesome
Group Sex

1 on 1 Sexual Relationship
M-F-F Threesome
F-M-F Threesome

Description:
I am happily married but, I would love to meet a bi-currious guy like myself!!! I love womans panties and pantyhose!!! I play alone since the wife will not play.
Getting Together:
Rilis has never gotten together with someone through a site like this before.
Rilis can possibly entertain at their home.
Rilis would like to meet at an I am not sure yet.
Rilis can travel up to 50 miles.
Ideal Situation:
Let's chat and we shall see. M-F-F

M-M-F

M-F-M

F-M-F

Rilis's Status

You are all so hot!!!
Reviews:
Boyshortlover
Getting hot and bothered looking at your pic lets chat and maybe meet and have some fun. Msg me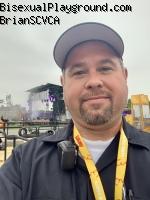 BrianSCVCA
Great pics.... Excellent body! Very sexy
This is an external profile. To create your own personal profile, upload your own photos, take advantage of our forums, chatrooms, your own mailbox, and to see the rest of the site, Sign Up for Free on Bisexual Playground today!