Gender, Race:
Caucasian
Practice Safe Sex:
I'd rather not say
Experience:
I have a good amount of experience
Eyewear:
I have glasses, and I wear them all the time
Interested In Ages:
35 - 65
Looking For:
Single Men
Single Women
Couples

Will go as far as:
Internet
Phone
Meeting in person
Dating
Short Term Relationship
Long Term Relationship

Interested In:
1 on 1 Sexual Relationship
M-F-F Threesome
M-M-F Threesome
M-F-M Threesome
F-M-F Threesome
Foursome
Group Sex
Other Alternative Lifestyle

Description:
Mid 50's clean respectable and very easy going individual that is always open to new adventures and new friends.
I wish this site would allow for multiple locations... I also live part time though out the year in SW Florida.
Getting Together:
BiG1968 has gotten together with someone through a site like this before.
BiG1968 can possibly entertain at their home.
BiG1968 would like to meet at a Cafe.
BiG1968 can travel up to 1000 miles.
Ideal Situation:
Meeting for lunch / dinner or drinks and just talking to see if there is a connection between us and just get to know each other.
Ideally would like to find a female to spend time with long term that is understanding of my bisexuality. I prefer to be friends with guys or couples that have bi male, as I like both male and females equally.
BiG1968's Status

Reviews: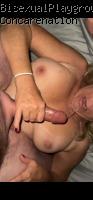 Concarenation
Quite the interesting man take the time to get to know cock and gives great head
Seekawoman
Nice cock Mr. Let's talk
This is an external profile. To create your own personal profile, upload your own photos, take advantage of our forums, chatrooms, your own mailbox, and to see the rest of the site, Sign Up for Free on Bisexual Playground today!