Gender, Race:
Caucasian
Practice Safe Sex:
No, never
Experience:
I have had so many experiences, I can't count them all
Body:
5' 10, 189 lbs.
(Proportionate)
Eyewear:
I don't have glasses
Interested In Ages:
18 - 99
Looking For:
Single Men
Single Women
Couples

Will go as far as:
Internet
Phone
Meeting in person
Dating
Short Term Relationship
Long Term Relationship

Interested In:
1 on 1 Sexual Relationship
M-F-F Threesome
M-M-F Threesome
M-F-M Threesome
F-M-F Threesome
Foursome
Group Sex
Other Alternative Lifestyle

Description:
Mature, married white male nudist. Full-time Palm Springs resident, playing alone and discretely. HWP at 195 lbs, 5' 10",
7" cut and thick cock. Really like to masturbate and do so several times a week. Also like to suck cock, eat pussy and cum.
Anal is always good and love being the center of a bukakke circle jerk!
7"x5" cut.

naked outdoor oral play and other perverted activities.
Getting Together:
sweetwad has gotten together with someone through a site like this before.
sweetwad can possibly entertain at their home.
sweetwad would like to meet at a Bar.
sweetwad can travel up to 500 miles.
Ideal Situation:
A no BS meet for sex---that is why we are all here. I have been on this site before and just finding someone who really wanted to meet and have sex was a major problem. If you really want to have sex with me, then let's do it without any inhibitions, hang-ups or "maybe's". I'm easy, and if you appeal to me, I'm up for it.
sweetwad's Status

Now giving anal gratification---bareback only!!! Need someone(or 2) in Palm Springs to suck and fuck!
Reviews: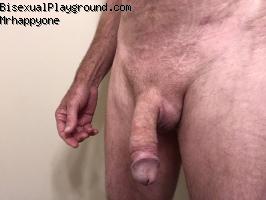 Mrhappyone
Nice pics, man. Great loads!!
luvtoplaywithit
sweetwad you convinced me, I want to suck your cock, mmmmm
This is an external profile. To create your own personal profile, upload your own photos, take advantage of our forums, chatrooms, your own mailbox, and to see the rest of the site, Sign Up for Free on Bisexual Playground today!