Gender, Race:
Middle Eastern
Practice Safe Sex:
Most of the time
Experience:
I have had a few experiences (still a beginner)
Body:
6' 0, 240 lbs.
(Proportionate)
Eyewear:
I don't have glasses
Interested In Ages:
21 - 58
Looking For:
Single Men
Single Women
Couples

Will go as far as:
Internet
Meeting in person
Dating
Long Term Relationship

Interested In:
Cyber Sex
1 on 1 Sexual Relationship
M-F-F Threesome
M-M-F Threesome
M-F-M Threesome
F-M-F Threesome
Foursome
Group Sex

Description:
I am an hounest quiet person,. I like discression, and love to have friends
Getting Together:
arabicmale has gotten together with someone through a site like this before.
arabicmale can possibly entertain at their home.
arabicmale would like to meet at an I am not sure yet.
arabicmale can travel up to 100 miles.
Ideal Situation:
Meeting in person IT is hard to say. there has to be some chemistry and some attraction between us. I feel it is a case by case thing. So lets talk, and get to know each other, and we take it from there M-F-F threesome
Good luck for everybody

arabicmale's Status

Reviews:
candy6766
Nice cock and as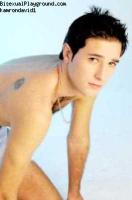 lookingtolick
Basically a nice guy
This is an external profile. To create your own personal profile, upload your own photos, take advantage of our forums, chatrooms, your own mailbox, and to see the rest of the site, Sign Up for Free on Bisexual Playground today!